Paragon Perks December 2012
Season''s Greetings & Best Wishes for the New Year
Dear Family and Friends,
We want to wish you all the best this holiday season has to offer. The Paragon Med Spa has some very special offers to share with you. These offers are exclusive and available for only a limited time. Let us help you give the gift of beauty and pampering this holiday season!
ONE More Week for Gift Certificates and Botox!
Call and make a appointment for your Christmas botox today!
And don't forget to come by for family gift solutions- GIFT CERTIFICATES are available now!
Currently Running Specials! now thru January 4th, 2013
BRAZILIAN PACKAGE
Buy a package of Brazilian Laser Hair Removal and receive a package of Underarm Laser Hair Removal for FREE!
6 Brazilians for $1400 and get 6 Underarms FREE
(regular value $2700)
BIKINI PACKAGE
Buy a package of Bikini Laser Hair Removal and receive a package of Upper Lip Laser Hair Removal for FREE!
6 Bikinis for $800 and get 6 Upper Lip FREE
(regular value $1160)
HOLIDAY PHOTOFACIAL PACKAGE
Buy 5 photofacials for $750
(regular value $1500)
Pumpkin Peel Facial is BACK! ($100)
The pumpkin peel facial uses all natural all organic enzymes from pumpkin, papaya and pineapple to give skin a soft feel and glow. It smells like fresh pumpkin pie!! This is available for only a limited time so don't miss it!
Refining Treatment for MEN (only $45)
This relaxing facial treatment is just for men. All the products will be customized to suit the patient's needs. The pores will be decongested and the skin conditioned.
Microdermabrasion Packages
Dr. Bishara Makes Headlines Once Again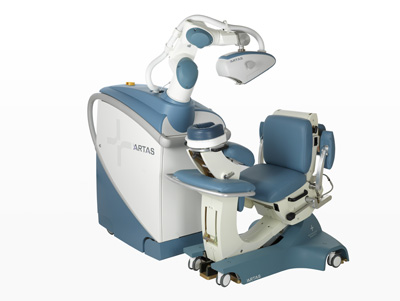 The ARTAS Procedure Redefines the Focus of Doctor's Practice
Mansfield, Texas –.DATE– Restoration Robotics, Inc. announced today that Dr. Mark Bishara, with offices in both Mansfield and Southlake, Texas, will be the first surgeon in the United States to install a second ARTAS® System for his practice. The ARTAS System is the first and only FDA cleared physician controlled, computer assisted technology for harvesting follicular units directly from the scalp, offering hair restoration physicians and patients unprecedented levels of safety, efficacy and patient comfort.  Dr Bishara became one of the earliest adopters of the state-of-the-art system with his Mansfield office installation in January 2012.  Now, a second ARTAS System will be installed in Dr. Bishara's Southlake office, complete with the construction of a central command center allowing the doctor to control both systems simultaneously.
Dr. Bishara currently performs three-four ARTAS procedures per week and within three months anticipates an increase to 32 cases per month – on average.  Hair restoration now represents about 70% of his practice, which he attributes in great part to the ARTAS system completely redefining his focus and adding to his practice's capabilities.
"The reason to purchase a second ARTAS system is so that I can train another team and we can make ourselves available to our patients in a timely fashion," said Dr. Bishara.  "There is certainly a huge allure to robotic hair restoration that needs little explanation to those providers who are in touch with the direct to consumer approach.  We are just trying to give the consumers what they want, when they want it and at an extremely high level of precision."
Thank you for all your support and Happy Holidays!
Best Wishes,
Jessica Dolan
Spa Director
Category:
---